Why the Garmin VENU2 Series Is the Smartwatch With the Custom Features You Need
There's something in the air when it comes to smart watches. I've been walking around with another fitness watch on my wrist for years, and until someone mentioned not wanting to have every alert or text vibrate his wrist, I didn't even notice how much my watch added to my tech anxiety.
But once I noticed it, I couldn't un-notice it. 
We featured the Garmin Venu 2 on our holiday Gift Guide for good reason, it's a smart watch with highly customizable features and fitness tracking that's flexible enough for a studio fitness enthusiast. That customization means that a user can take advantage of the smart features or not, can track their cycle or not, can keep their numerical goals on their watch screen or not. And for me, it's important not to obsess over a calorie count. So, it's not a goal I actively work towards and it's not a metric on my watch's screen.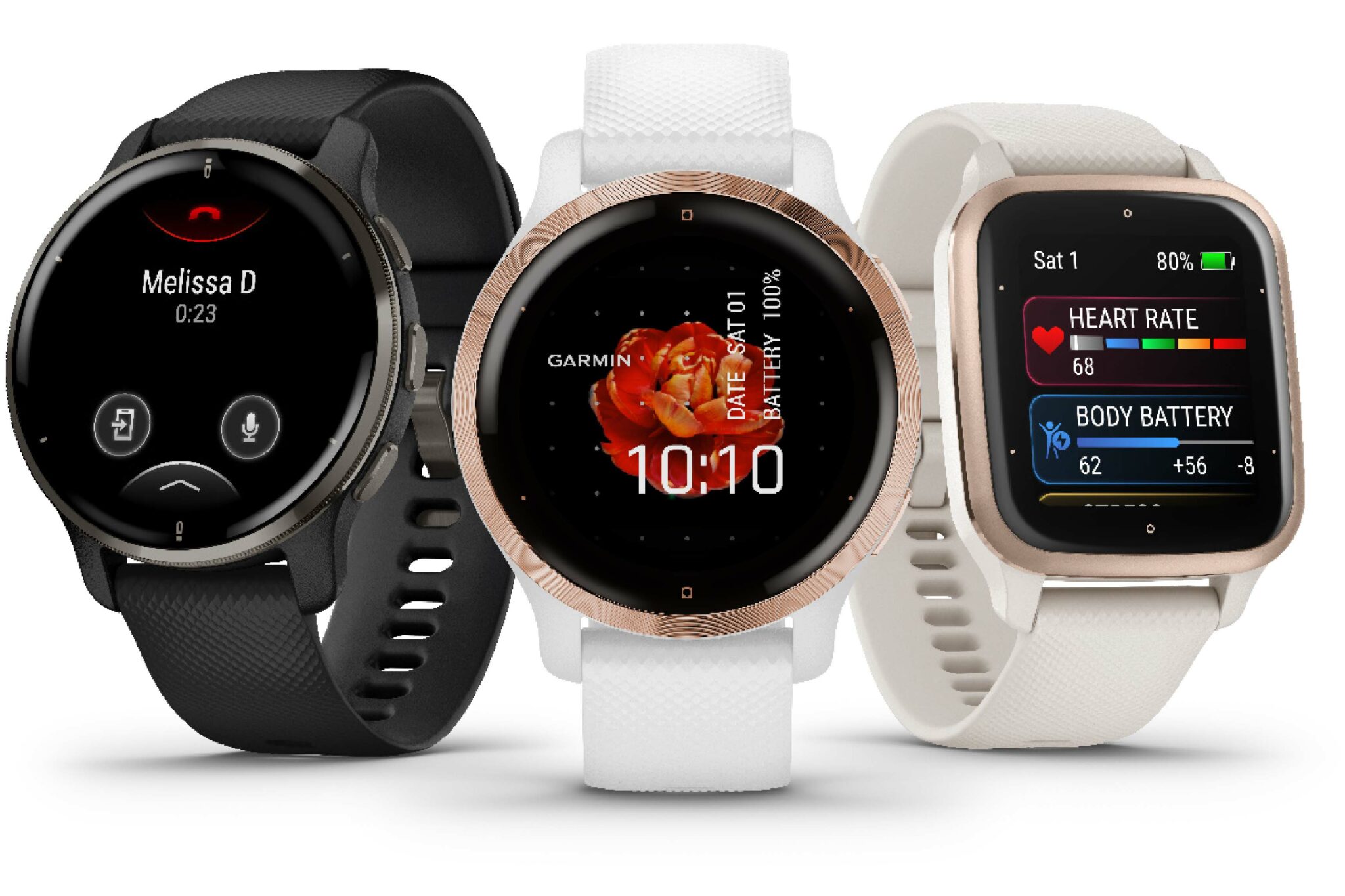 Also of note, its battery life can last up to an insane amount of time (9 days), depending on your use.
And I wasn't alone in trying this fitness-focused device, a group of aSweatLife Ambassadors joined me in testing the device, customizing for their unique and active lifestyles. Here's what we loved.
1. We had access to much more data because of the battery life
Garmin provides a handy breakdown of the exact usage types that lead to greater battery drain. And because everyone in the aSweatLife Ambassador group used the features a little differently, our average time between charges was six to eight days. DAYS!
Devices in the Venu2 series charge fully in about 90 minutes, but if you're in a time crunch – like that post-gym, pre-breakfast meeting shower that you only left 15 minutes of time for – you can get about a day's charge in just 10 minutes.
Battery life may seem trivial, but when it comes to a smartwatch, longer battery life equals a more complete picture of health.
"I was able to keep it on 24/7 meaning the data was very complete and accurate because I didn't have to charge it daily," Sarah Johnston told us.
And not having to remember if your watch is on the charger means you're probably going to make it out the door with it on.
"I was more likely to use it as I didn't have to take it off to charge and accidentally leave it at home," Gideon Akande said.
2. Sleep was a theme
Battery life feeds into everything, in particular sleep data. With a longer battery life, sleep data was suddenly available to us. For me, I was able to see the impact of eliminating alcohol from most nights and adding magnesium to my pre-bed routine: more deep sleep.
"I love everything about the sleep tracking! Helps me understand stuff that impacts my sleep (wine … sadly … lol) and optimal times I've been sleeping and waking," Sarah Johnston shared.
"I like that it provides you with sleep data and sleep score. It also has suggestions for how you can improve and what you can change and adjust," Doniqua Portley said.
And the Body Battery score, which shows the effects of physical activity, stress, relaxation and the restorative power of sleep together in a single place. Margot Dayton tracked how sleep, stress, and exercise impacted her Body Battery, conducting an experiment that showed how alcohol impacted her score personally. Science!
3. It does a great job of tracking workouts at the gym or studio
I forever associated Garmin with endurance fitness, but with the Venu2 series, we see that it can do that and much, much more.
aSweatLife Ambassador Connie Kulczycki took hers for a spin through skiing, bouldering, Crossfit workouts and walking her very cute dog Lu, which you can watch here.
Sarah Johston showed through data from her Venu 2 series that her heart rate was equally elevated in her 20 minute strength workout and her 20-minute run. We just love it when data proves a point.
And, if you can't make it to the gym, Doniqua Portley used one of the built-in workouts from Garmin. "It lists out the entire workout and even shows you how to perform the exercise," she said. "It automatically keeps track of sets and reps."
4. It's not bad to look at
I opted for the gold metal accents and the cream watch band. I've worn it with a dress without thinking twice.
"I think it looks very nice to start … The screen is bright and gorgeous," Sarah Johnston exclaimed.
"I'm a Garmin Girl now and there's no going back," Doniqua Portley said.